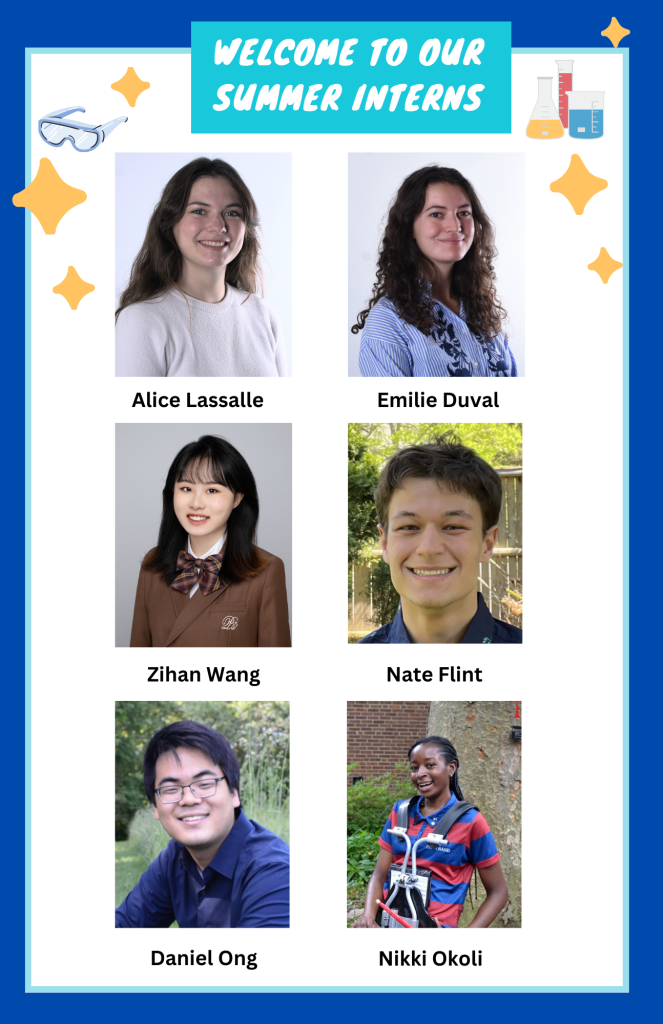 The Kohane Lab has welcomed our first half of summer interns!
Alice Lassalle: Alice is currently in her last year of study at ESPCI, a French engineering school (the equivalent of a Master of science). Her research interests include drug delivery devices and biomaterials. In her free time she enjoys exercising, going to museums, listening to music or reading.
Emilie Duval: Emilie is also currently in her last year of study at ESPCI. Her research interests include targeted and triggered drug delivery systems, and biomaterials in general. In her free time she enjoys horseback riding, spending time with friends, listening to music and exercising outdoors. She also loves traveling and discovering new places!
Zihan Wang: Zihan received her bachelor of science degree in chemistry from Nankai University (China). Currently, she is a master's student in chemical engineering at Columbia University. Her research interests include the design and fabrication of anti-cancer drug delivery system. Some of Zihan's hobbies include street dance, barista art, calligraphy art, jogging, tennis, swimming and photography!
Nate Flint: Nate is currently a sophomore at Colby College majoring in chemistry with a concentration in cellular and molecular biology/biochemistry. His research interests lie in the application of emerging technologies in emergency and pain medicine—particularly drug delivery. He is also interested in the synthesis of new molecules and macromolecules. Outside of the lab, Nate enjoys hiking, fishing, and sailing. He also plays guitar and banjo in two bands and sings classically. 
Daniel Ong: Daniel is returning to the Kohane Lab for a second internship! He is currently an undergraduate rising junior at Johns Hopkins University studying chemistry. His research interests outside of the lab include collagen fiber texture patterns in breast cancer metastatic sites. In his free time he enjoys training his dogs, playing violin, and making bonsai.
Nikki Okoli: Nikki is also returning to the Kohane Lab for a second summer! She is currently an undergrad at the University of Pennsylvania, pursuing a B.A. in Biology (Molecular & Cell concentration) with minors in Chemistry and Japanese studies. Her current research interests are in targeted drug delivery mechanisms. Previous research involved investigating the amyloid hypothesis and competitive binding models for Apolipoprotein E isoforms in developing Alzheimer's pathologies. In her free time, Nikki enjoys playing the drumkit/concert percussion, skateboarding, film editing, and building random things in maker spaces.